We offer a 3D casting kit repair service. We know how difficult it can be to create a perfect 3D casting from a kit. We have been repairing, enhancing and finishing 3D castings made from kits for many years. We offer a service where you send us your 3D castings that you have made, we will repair and tidy up any imperfections and enhance the detail for you. From there, they can be framed, sprayed silver or made in to resin castings or simply returned to you as a finshed plaster sculptures.
For the impressions, you can send us your plaster impression tile and we can transform this for you into a Bronze or Aluminium resin impression, see below for more info on prices.
The process is simple, you send us images of your kit castings. From the images, we will get back to you with a price to finish them as you wish, and they can be courier back to you. There are some images below of the finishes we offer please contact us for more info on [email protected] or call us on 020 8835 2056 , 07950 920097.
Cost of repairs, price will be given from supplied photos
additional costs on finsihes:
Framing 2 castings including plaque, £75
Pewter painted finish, £5 per casting
From plaster to Aluminium resin or bronze, £100 per casting.
Delivery, £18.50 (or you can collect)
Payment is taken on confirmation of orde by bank transfer or paypal https://www.paypal.me/feet1st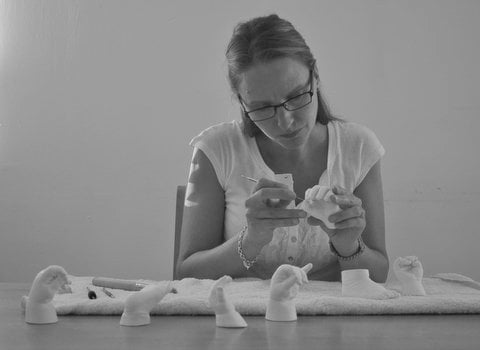 Impression kit upgrade Prices
Cost of any alterations given from supplied photos,
unframed resin impression (small size) £125
resin impression in shadow box frame £150
resin impression in box frame, £210
(the price will be based on the size of your casitng)
Delivery, £18.50 (or you can collect)
Payment is taken on confirmation of orde by bank transfer or paypal https://www.paypal.me/feet1st